Rose Calendars Continues to Shine at World Calendar Awards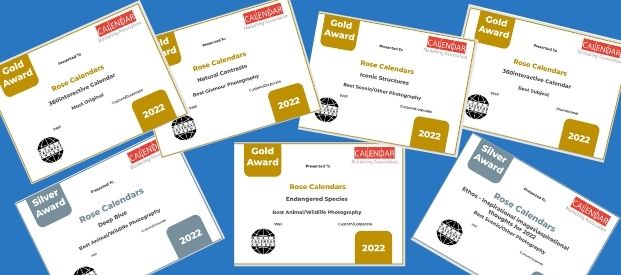 Results from the annual World Calendar Awards are out, resulting in Rose Calendars attaining a magnificent seven wins at this year's awards.
Five awards were at the gold level, with the remaining two being silver.
These wonderful accolades are testament to the continued excellence in design our promotional calendars offer, with the 360interactive calendar taking not one, but two golds this year, bringing the total number of wins for this design to an impressive eleven awards! Customers are able to benefit from the award-winning features by sharing these calendar designs with their customers, ensuring their brand gets noticed all year.
Full details of the seven awards are as follows:
Iconic Structures achieved Gold in the Best Scenic category
Endangered Species took Gold in the Best Animal/Wildlife category
Natural Contrasts 2022 won Gold in Best Glamour calendar
Deep Blue achieved Silver in Best Animal/Wildlife category
360interactive won two Gold awards – Best Subject and Most Original
Full details of all these calendars can be found here:
https://www.rosecalendars.co.uk/promotional-calendars