Remembering Her Majesty Queen Elizabeth II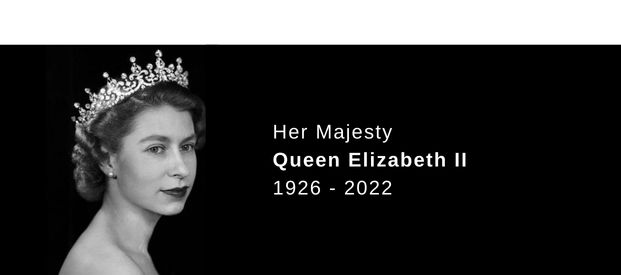 As the nation mourns the passing of Her Majesty Queen Elizabeth II, we take a look back at the times she visited Colchester and North Essex and the incredible life of service she gave our country.
Her first visit to Colchester was in June 1949 whilst she was still a Princess. Her first visit as Queen to then town, occurred in 1958. Then in 1985 she visited the University of Essex, going on to enjoy lunch at Colchester Town Hall. Following this, The Queen officially opened Colchester General Hospital which replaced the earlier Essex County Hospital where a ward was endowed by Rose Calendars founder George Rose in 1934. He was a great philanthropist who during his lifetime donated over £50,000 to charities which resulted in a resolution of appreciation, under the Corporate seal from Colchester Town Council.
In a visit in 2004 to Harwich, The Queen and Prince Philip visited to endorse Charter 400 celebrations. She viewed the Mayflower exhibition at Ha'penny Pier, Trinity House and the Electric Palace cinema before unveiling a commemorative plaque at the University of Essex to mark its 40th anniversary.
Rose Calendars were pleased to mark the occassion of Her Majesty's Platinum Jubillee earler this year by planting a cherry tree at our Colchester factory site. Part of the Queen's Canopy initiative, the tree will provide pretty colour year round and a fitting tribute to our late monarch.
Queen Elizabeth II, was the UK's longest-serving monarch. She died at Balmoral aged 96, after reigning for 70 years, having come to the throne in 1952.
Her son King Charles III said the death of his beloved mother was a "moment of great sadness" for him and his family and that her loss would be "deeply felt" around the world.
The death of The Queen came in a week where the UK saw unprecedented change, with the new Prime Minister Liz Truss being sworn in at an audience with Her Majesty on 6th September in Balmoral. The new PM said "The Queen was the rock on which modern Britain was built, and provided us with the stability and strength that we needed."
The Queen's reign spanned 15 prime ministers commencing with Winston Churchill. She held audiences with her Prime Ministers, and was fondly remembered by past PM John Major who told of how the meetings would often run on for over an hour, where friendship and good humour were shared behind closed doors.
At 18.30 on 9th September, the flag at Buckingham Palace was lowered to half-mast and an official notice was placed outside on the railings announcing the death of the Queen. Prince Charles immediately became King on the passing of his mother, in the same way Princess Elizabeth became Queen on the death of her father in 1952 whilst she was in Kenya.
At just 21 years old, Princess Elizabeth vowed to devote her life to service. Decades later at her Silver Jubilee in 1977 she reflected on her words and again 45 years later at her Platinum Jubilee in 2022 in a letter to the nation. She was joined by three generations of her family on the balcony of Buckingham Palace for the finale to the royal pageant, much to the delight of the assembled crowds.
A state funeral for the Queen takes place on Monday 19th September which has been declared a Bank Holiday in the UK. Rose Calendars will be closed to allow staff and their families to pay their respects to Her Majesty Queen Elizabeth II.