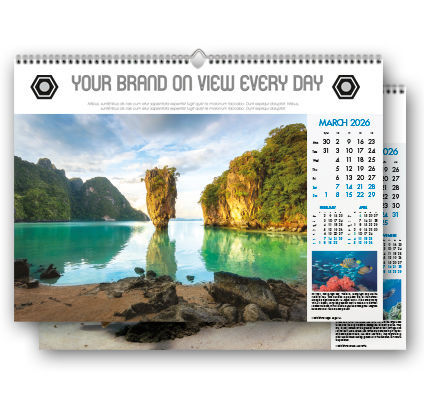 Promotional Calendars for 2024
Rose Calendars are proud to offer over a century of experience in designing, publishing and printing promotional calendars. Proven to be one of the most cost-effective forms of advertising and providing a medium for your business promotion, our extensive range of stunning advertising calendars ensure your brand is directly in front of your customers all year round.
Whether you are looking for attractive, eye-catching promotional wall calendars or stylish branded desktop calendars, our range of 2024 calendars includes stunning titles and formats for every taste and budget. Please browse our range of exciting promotional advertising calendars for 2024.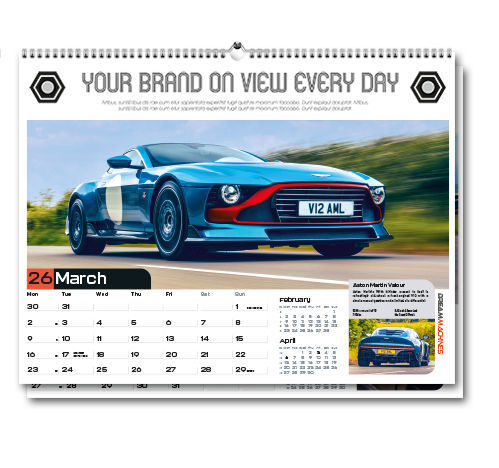 Over A Century Of Calendar Design, Manufacturing & Printing!
Your calendar printing requirements are in good hands at Rose Calendars: we have been designing and publishing promotional calendars for over 110 years and through our expertise have become the leading calendar printer in the UK. The exceptional quality of our branded calendars and high standards of our customer service, coupled with low minimum order quantities and fast and reliable delivery, is renowned in the world of corporate calendars.
Our 2024 calendar range features innovative designs coupled with easy-to-use date pads, with stunning imagery complemented by informative captions and additional useful information. The 2024 range also features our innovative, industry leading interactive Destinations360 Wall Calendar. You can see all our new titles here.
Make the most of your marketing budget by investing in promotional calendars from Rose Calendars, specialists in corporate calendars for over a century!
Branded Diaries and Notebooks
Bring your company to the forefront of your customers' attention with our range of branded diaries and notebooks. Available in a wide range of varied designs, size and format, diaries and notebooks offer the perfect vehicle for your business branding.
Corporate diaries bring your brand to customers every working day, with your company logo or details printed, embossed or foil blocked on the cover. Sizes range from Pocket, to A5, up to A4 and Quarto, and you can choose a page layout to suit, from page-a-day or week-to-view. Opt for a colour scheme to complement your corporate colours. With a large choice of finishes and colourways, there is sure to be a design to fit your desired look.
Branded notebooks offer great versatility with sizes and bindings varying from casebound, to wirobound and glued jotter pads to give every business the chance to display their branding. Full colour covers or subtly embossed logos can feature, with a choice of finish such as padded or super glossy covers.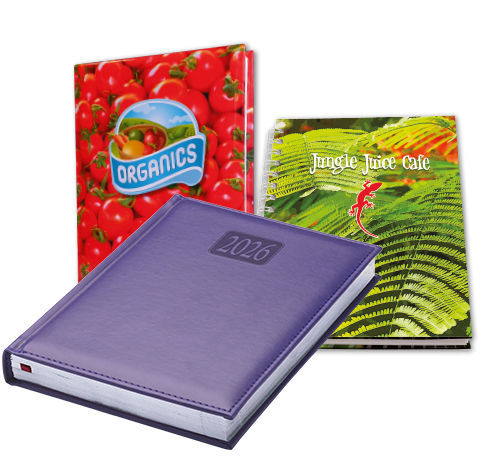 2024 Calendar Range Highlights
Some of our most popular advertising calendars this year.
---
View Full Range
Testimonials
Proving the value of calendars, our customers do the talking...
Hannah Marriage | Company Director | W & H Marriage & Sons
"Our long-established yet evolving family business uses promotional calendars to ensure our brand is kept in front of our suppliers and customers every day. Quality is the name of our game and calendars have an important role to play."
Reuben Bolton | Commercial Director | Bolton Bros Recycling
"Calendar advertising works for us as it reaches customers every day of the year. We like working with Rose Calendars as they take environmental responsibility at the same time as producing our calendars."
---
View Our Testimonials
Our Latest News
Discover the history of significant dates from around the world, and keep up to date with what's happening at Rose Calendars.
Christmas is a season of celebration and fun that is observed in many ways around the world. From hanging spiderweb decorations to eating deep-fried caterpillars, this whistlestop tour around the globe explores some of these seasonal traditions.

Rose Calendars in association with Family Business United have joined an initiative to show we care, working with organisations across the UK to redistribute food to communities to help feed some of the most deserving and vulnerable people across the UK. The Festive Food Parcels campaign will help those who need it most, throughout December.

Halloween is a fun time of year for many families, with activities such as dressing up in spooky costumes, decorating our homes and carving pumpkins. But why do we celebrate it on 31 October? And what are the origins of some of the Halloween traditions? Read on to find out!