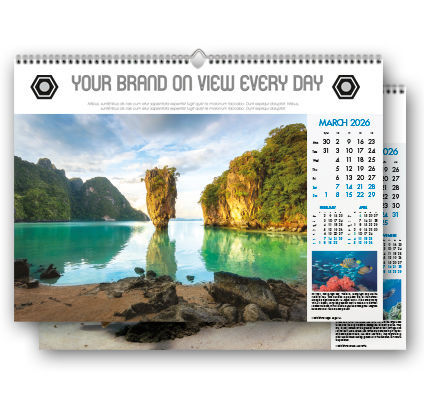 Promotional Calendars for 2019
Rose Calendars are proud to offer over a century of experience in designing, publishing and printing promotional calendars. Proven to be one of the most cost-effective forms of advertising and providing a medium for your business promotion, our extensive range of stunning advertising calendars ensure your brand is directly in front of your customers all year round.
Whether you are looking for attractive, eye-catching promotional wall calendars or stylish branded desktop calendars, our range of 2019 calendars includes stunning titles and formats for every taste and budget. Please browse our range of exciting promotional advertising calendars for 2019.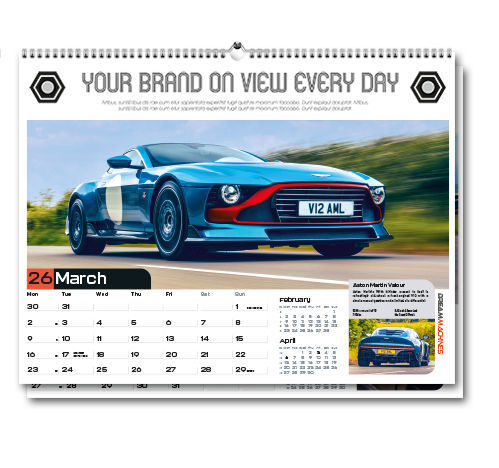 Over A Century Of Calendar Design, Manufacturing & Printing!
Your calendar printing requirements are in good hands at Rose Calendars: we have been designing and publishing promotional calendars for over 100 years and through our expertise have become the leading calendar printer in the UK. The exceptional quality of our calendars and high standards of our customer service, coupled with low minimum order quantities and fast and reliable delivery, is renowned in the world of corporate calendars.
Our 2019 calendar range features innovative designs coupled with easy-to-use date pads, with stunning imagery complemented by informative captions and additional useful information. The 2019 range also features our innovative, industry leading 360interactive Wall Calendar. You can see all our new titles here.
Make the most of your 2018 marketing budget by investing in promotional calendars from Rose Calendars, specialists in corporate calendars for over a century!
2019 Calendar Range Highlights
Some of our most popular advertising calendars this year.
---
View Full Range
Testimonials
Proving the value of calendars, our customers do the talking...
Hannah Marriage | Company Director | W & H Marriage & Sons
"Our long-established yet evolving family business uses promotional calendars to ensure our brand is kept in front of our suppliers and customers every day. Quality is the name of our game and calendars have an important role to play."
Reuben Bolton | Commercial Director | Bolton Bros Recycling
"Calendar advertising works for us as it reaches customers every day of the year. We like working with Rose Calendars as they take environmental responsibility at the same time as producing our calendars."
---
View Our Testimonials
Our Latest News
Discover the history of significant dates from around the world, and keep up to date with what's happening at Rose Calendars.
As the Days of Awe draw to a close and new resolutions begin, we take a look at the significance of Yom Kippur, Jewish New Year and how we celebrate the birthday of the human race.

Rose Calendars have joined forces with other members of a local business group to produce a charity fundraising calendar in aid of St Helena Hospice.

This year marks 100 years since women got the vote. Find out about the campaigns and history surrounding this historic milestone.