Rose Calendars Supports
Rose Calendars are proud to work with charities and organisations to extend the benefit of what we do to the wider community. Historically, we have always been generous in this respect, with our founder George Rose becoming well known in the community as a great philanthropist. By the time of his death in 1943, he had donated over £50,000 to beneficial causes in Colchester, including being the main benefactor for the construction of 21 individual alms-houses. He regularly contributed to the mayor's fund providing assistance for families of the distressed or unemployed and in 1934 these donations were the subject of the presentation of a resolution of appreciation, under the corporate seal, from Colchester Town Council.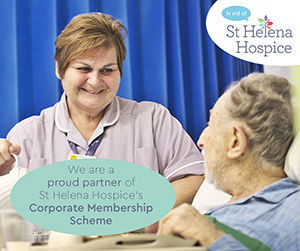 Every year, we work with St Helena Hospice to provide sponsorship and support. In the past we've sponsored daily newspapers, taken part in an organised £50 challenge where we produced calendars with local businesses, converting this to over £3000, and we even arranged our own events such as The Great Rose Bake Off! We sponsored a day of the Singlepoint service over Christmas to help patients remain in their own home with family at a critical time and our staff Christmas raffle always proves popular.
Rose Calendars are committed to match funding on all fundraising for the hospice by our staff.
We also support a centre for young adults with special educational needs that provides a daily activity base for gardening, crafts, home skills, cookery and art. All the items made are then sold in their shop to the public. We donate our unwanted pallets which are then re-purposed into other items at the centre, including fencing, furniture, bird boxes, planters and bug hotels.
Our pallets are also repurposed by other local companies and used for a variety of projects, including seating, storage and furniture.
Wildlife and natural habitat are both popular topics for many of our calendars, so combining our love of wildlife and a passion in conserving local nature, we are proud to have supported Essex Wildlife Trust since they introduced the Corporate Sponsorship programme. This conservation charity improves important habitats to ensure wildlife can thrive and the natural world continues to be enjoyed for generations to come. Customers can enjoy our full range of calendars depicting wildlife and the natural environment.
Rose Calendars are always happy to speak to local charities and offer support through our repurposing of materials. Please get in touch if this is something you would like to talk to us about.