Tree Planting with The Woodland Trust for Carbon Capture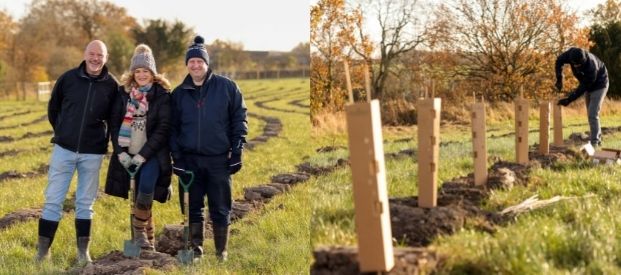 Rose Calendars recently took part in tree planting 4000 saplings, joining forces with the Woodland Trust to create new native woodland as part of the Carbon Capture® programme.
Marketing Manager Elizabeth Rose teamed up with colleagues from Premier Paper at the Young People's Forest in Mead, Derbyshire. They were joined by the Outdoor Guide and CBBC presenter Gemma Hunt as well as other guests from companies around the UK who travelled to take part in the tree planting.
The target for the day was to plant at least 3,000 native trees including holly, silver birch, alder and oak. By the end of the day an incredible total of 4,000 indigenous saplings were planted and the previously empty field began to look transformed.
Talking of her experience of the day, Elizabeth said "It was great to get outdoors and give something back, through this initiative which we joined in August 2021. So far this year we have captured enough carbon from the paper we purchased to plant 2,620 square meters of woodland, which is equivalent to ten tennis courts. We hope to continue in a similar fashion into 2022 and demonstrate the value in using paper with Carbon Capture® credentials."
Young People's Forest Mead is located in the heart of the Derbyshire countryside, the 162-hectare site is steeped in history with ties stretching back to the Norman Conquest and the Vikings, over 1,000 years ago. Coal mining began in the area during 16th century and the land was used as an open cast mining site. In 2015 however, mining ceased and the Woodland Trust plan to plant 250,000 trees, helping to create a safe and educational outdoor space for generations to come; as well as bountiful habitats for endless species of insects, foxes, deer, hare, owls, sky larks and badgers. This is one of many sites across the UK which the Woodland Trust are committed to planting.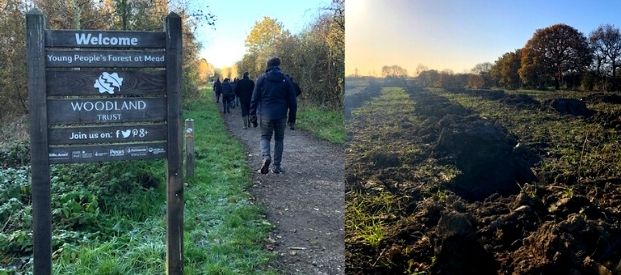 The tree planting event was organised as part of the Carbon Capture® programme, which has grown to become the industry's leading environmental initiative with well over 600 companies and organisations fully signed up and committed to the cause, all directly supporting the creation and maintenance of local native woodland throughout the UK. To date the Carbon Capture® programme has raised in excess of £1.3m for the Woodland Trust, planting over 330,000 trees so far and captured over 80,000 tonnes of CO₂. 100% of all money raised through the Carbon Capture® programme, goes directly to the Woodland trust to create and protect native British woodland.
In addition to this initiative, our green credentials continue to be a priority across the business. All the paper used in the production of our range of promotional calendars is sustainably sourced and now uses paper which has been purchased through the Carbon Capture® programme. All our board mailers and cartons are made from recycled material. We offer carbon neutral deliveries through DPD and even use solar power in the printing of calendars. Vegetable based inks are used on the printing presses and there is also a zero waste to landfill policy. Even better still, paper calendars are fully recyclable, giving customers a good reason to choose them as advertising products.