Malcolm Root
About transport artist Malcolm Root
With several books of paintings to his name, Malcolm Root is a highly accomplished transport artist and Rose Calendars is honoured to be able to include some of his work in our range of Transport Calendars.
With a fantastic eye for capturing the spirit of the age as well as the subject, Malcolm Root's paintings are always popular with both transport fans and anyone with a penchant for history.
Born in Colchester in 1950, Malcolm Root is as local to Rose Calendars as it gets! He has lived in nearby Halstead all of his life and left school at the age of 16 to train as a printing apprentice with a view to a career in design and particularly typography. In 1981 he left the printing industry and he became a full time artist.
Malcolm's greatest interest lies in transport from the mid twentieth century, and the impact it has on the ordinary person. Vehicles and people in everyday life feature mostly in his work.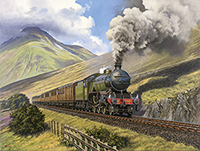 Rose Calendars regularly commission Malcolm Root to produce paintings for our transport range, and the resulting calendars are always hugely popular with customers and recipients, who enjoy his work every year. Some customers always order calendars featuring his paintings. Their customers have come to associate the businesses with the calendars they receive and look forward to seeing the new images when they turn over each month.