14 Weeks until Christmas – The Countdown Begins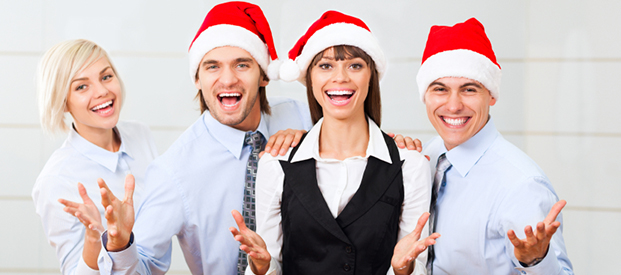 We are sure it hasn't escaped your attention that summer is drawing to a close, and our thoughts inevitably turn to the final quarter of the year. Who better than a promotional business calendar company to confidently inform you that there are now exactly 14 weeks until Christmas, and begin the countdown and the journey to the end of 2015?
Some may complain that this all begins too early, but if you can't get enough of the festive season, and you like to plan and organise, then this is a great time of year to do just that! Businesses and companies think about how they might be using their marketing budgets, planning promotions and saying thank you to their customers and clients, retail shops begin to stock festive items and here at Rose Calendars we go into production overdrive, with our factory working split shifts, 7 days a week, to ensure all of our customers receive their 2015 calendars to send to their clients.
This is a great time of year for businesses, for a variety of different reasons. A positive attitude towards the generosity of giving advertising gifts to promote your brand, coupled with the feel good nature of the festive period, is all good for business, and it is never too early to consider a calendar as part of this activity.
In many ways, the countdown to Christmas is as exciting as the festive period itself. There is nothing quite like the atmosphere that accompanies it, particularly when it comes to the workplace. The atmosphere at work can become quite enjoyable, with edible indulgences or sociable events making work seem less tedious. The 'office Christmas party' is a national institution, which has been immortalised in various guises over the years, including countless British TV shows, like The Office and The Vicar of Dibley. It is always good to introduce some enjoyment into the working environment.
In celebration of the countdown to Christmas, here are some facts that you might not know about the festive season.
We might all be used to the notion that Jesus Christ was 'born on Christmas day,' as countless festive ditties suggest, but nobody actually knows when he is supposed to have entered the world. In fact, early theologians put the date all over the calendar – a historical document found in North Africa even judges it to be in March. The Bible does not specific a time or a date for the birth of Jesus Christ, and December 25th was likely chosen because it coincides with two pagan holidays, which influence the formation of Christmas in the first place.
According to UNICEF, there are 2,100 million children in the world. If there are, on average, 2.5 children per household, Santa Claus would have to make 842 million stops on Christmas Eve, in order to leave gifts for them all.
The largest Christmas stocking ever created was 106 feet long and 49 feet wide. It weighed the same as five reindeer and held almost 1,000 presents. It was made by the Children's Society, in London, in December 2007.
The earliest known Christmas tree decorations were apples. During the festive period, medieval actors would use apples to decorate fir trees, at the end of 'Paradise Plays,' which were written to tell the story of Adam and Eve.
In Iceland, there are no less than 13 different kinds of Santa Claus, including one called Grýla, who kidnaps naughty children on Christmas day.
The celebrity calendar is thought to have been created by Laurence Prince, an east London printer and market trader. In 1977, he asked Elvis Presley's management for permission to sell images of the singer, set above months of the year.
A recent survey found that over 80% of workplaces do still throw a Christmas party every year. This figure plummeted during the recession, but has now climbed back to its original condition. You can't beat a festive dance to Abba, with a group of colleagues you normally only see socially around the photocopier.
In 2013, a whopping one in five UK consumers did all of their Christmas shopping via the internet. This figure is set to rise this year…….
Over the last five years, the concept of 'January sales' has gradually disappeared. These days, it is common for the post-Christmas sales to start before Boxing Day, and for what used to be known as the 'January sales' to now be called 'the winter sales.' This is very important for retailers, as it is changing the way in which consumers shop both before and after the festive period.
It has become customary for general knowledge boffins to shake their heads and sigh loudly when people start talking about the origins of Santa Claus. 'He was invented by Coca-Cola as a marketing ploy,' they'll say. Well, this isn't true either – it is a popular urban myth. In reality, he is more of an 'evolutionary' figure, whose look was shaped by writers, artists and historians long before the Coca-Cola Company gave the world their fizzy drink swilling Santa.
The festive period is a busy time, particularly for businesses. At Rose Calendars, we form part of the process which makes calendars become the necessary item which lasts all year, to promote our customers' brands. Ideally by now, the majority of our customers have already ordered, with stock levels planned and production nearing full capacity, but it's not too late to still consider if you have left the decision until now. By giving the gift of time with a corporate calendar, your festive season is just beginning!
For more help and advice on our full range of business calendars available at Rose Calendars – contact us.