Going Green for World Environment Day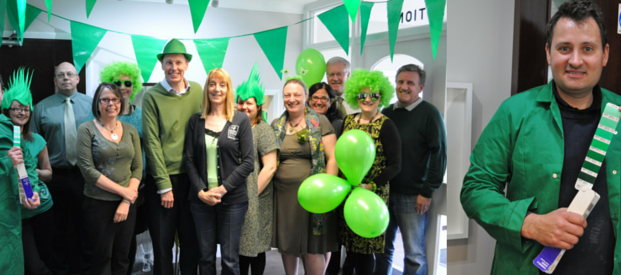 With the arrival of World Environment Day on 5th June, Rose Calendars are 'keen for green' and our already proven green credentials continue to strengthen.
As proud corporate supporters of Essex Wildlife Trust, Rose Calendars recently held a 'Go Green' Day to raise money for the trust, having been corporate members for 23 years since 1992.
Money was raised by wearing green items and making and selling cakes. Print Supervisor Dan Clark found a fetching green jumpsuit to match his pantone colour reference chart, and Pre-Press Manager Nicola Amiss and Receptionist Lisa Boulding sported fantastic green mohawks for the day.
Corporate Manager of Essex Wildlife Trust, Michele Farrant joined our green team for tea and cake and said:
"We were pleased to see the staff at Rose Calendars embracing the green theme, and we are grateful to them for the funds they have raised for the vital work of the trust and I enjoyed my green cake in the process!"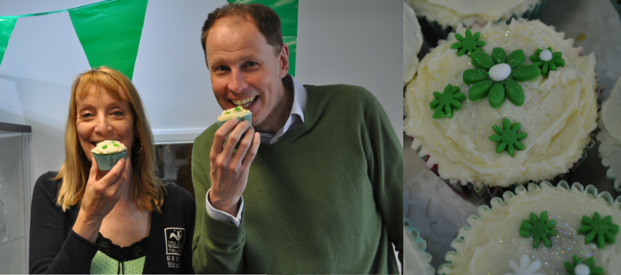 Michele Farrant, Corporate Fundraising Manager from Essex Wildlife Trust, and Michael Rose enjoying some green cakes.
Essex Wildlife Trust is the county's leading conservation charity. It has more than 33,000 members, manages and protects over 8,200 acres of land on 87 nature reserves, 2 nature parks and runs 9 visitor centres. The aim of Essex Wildlife Trust is to Protect Wildlife for the Future and for the people of Essex. It is supported financially by members, local businesses and grant-making organisations. It is one of the largest of the 47 county wildlife trusts that work together throughout the British Isles as The Wildlife Trusts.
World Environment Day which is celebrated every year on 5th June. Declared by United Nations General Assembly to deepen public awareness of the need to preserve and enhance the environment and to raise global awareness in protecting the planet. Taking place in June every year, the date recalls the opening of the United Nations Conference on the Human Environment which was held in Stockholm in 1972, which then led to the establishment of the United Nations Environment Programme. In 2015 the theme is 'Sustainable consumption and production'. The slogan for the theme is "Seven Billion Dreams. One Planet. Consume with Care", so Rose Calendars are right on trend in keeping with the theme in sustainable consumption and production.