Mick Payton
About glamour photographer Mick Payton
We added Mick Payton's contemporary and stylish title Natural Contrasts to our range of glamour calendars a few years ago and often get asked about his background, so felt compelled to publish more information on Mick and his art.
As a stark contrast to his current work, Mick's working life started in steel engineering and he even managed a brief time as a driving instructor. After that, Mick's career in photography began originally as a fashion and wedding photographer, proving him to be a natural behind the lens. Some years ago Mick then branched out into black and white fine erotic art photography, a genre he has a clear passion for. He has always specialised in photographing people and enjoys exploring the natural contrasts of light and shadow on the human body, showing exceptional talent in capturing erotic images in a tasteful and appealing way.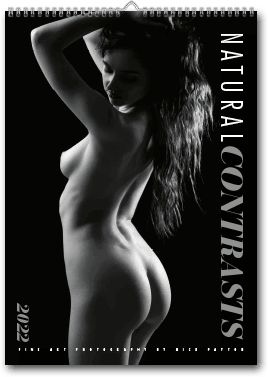 His inspiring work has gained him international recognition, with many features in various high profile magazines and calendars, as well as TV documentary which was aired in 2006.
Today, Mick passes on his passion and knowledge in workshops and seminars, teaching the art of black and white nude photography through exploring the natural contrasts of light on the female form.
We are delighted that Mick continues to publish his popular calendar Natural Contrasts exclusively with Rose Calendars for 2022.
His work is available for your company promotion in our corporate calendar 'Natural Contrasts, which contains a stunning selection of his fine art photography and has long proved a bestseller amongst lovers of glamour calendars.