22 November is St Cecilia's Day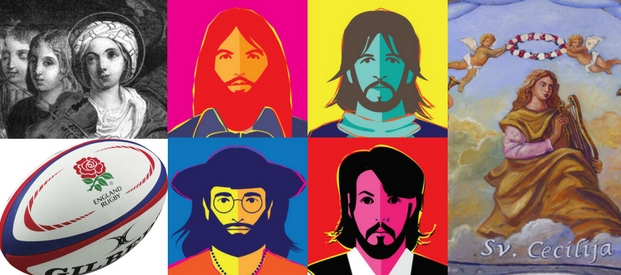 On the feast day of St Cecilia, patron saint of music, we find out about her life and the music and poetry she inspired, and we take a look at this day in recent times to remember what made 22 November so significant for people from all walks of life, from the Beatles and Mrs Thatcher to the England Rugby Team and even Angela Merkel.
The girl who sang in her heart to God
Cecilia lived in Rome in the first century and devoted her life to prayer and preaching, converting over 400 people to Christianity. She took a vow of virginity but despite this, her parents gave her in marriage to a young man named Valerian of Trastevere. During the wedding, while musical instruments played, Cecilia sang in her heart to God. After the ceremony she told Valerian about her vow of virginity, explaining that she had an angel for protection, and telling him that he would be able to see the angel once he was baptised. When he returned from his baptism, Valerian indeed saw an angel with flaming wings standing beside Cecilia as she prayed in her chamber.
This was a dangerous time to be a Christian, but Valerian and his brother Tibertius dedicated their lives to burying the saints who were murdered each day by the prefect of the city. In time the brothers were arrested and executed. Cecilia was arrested too, and sentenced to death by suffocation. For a night and a day she survived this ordeal, and eventually an executioner was sent to cut off her head. He struck three times but still could not decapitate her and left her alive and bleeding. Crowds gathered to collect Cecilia's blood and for three days they listened to her preaching and praying until eventually she died.
Music for St Cecilia
Over the centuries, composers have created music in honour of their patron saint, and poets have celebrated her life. In medieval times, Chaucer told her story in The Second Nun's Tale in The Canterbury Tales, and in the 17th century, Dryden wrote his Song for St Cecilia's Day. Henry Purcell was the first of several composers to set this poem to music. Charpentier, Handel and Haydn are just a few of the others who wrote odes, hymns and masses for the patron saint of music.
In the 20th century, Benjamin Britten, born on St Cecilia's Day, wrote his Hymn to St Cecilia, setting W. H. Auden's poem to music. Auden's words describe her life and implore Saint Cecilia to inspire all musicians, begging her to 'come down and startle composing mortals with immortal fire.'
The Beatles and Foo Fighters
In 1968 the Beatles chose St Cecilia's Day to release their famous album known as The White Album (so called because its cover was completely white, with nothing but the words The Beatles embossed on the front cover). It was so successful that it entered the UK chart at number one and stayed there for eight weeks, remaining in the chart for 22 weeks altogether. Nearly 50 years later, on 22 November, Foo Fighters released their EP 'Saint Cecilia' for free download through their website. It was recorded at Hotel Saint Cecilia in Texas.
Four politicians …
It's not only in the world of music that 22 November has a special significance. In politics this has been a day for life-changing events. On 22 November 1963, President Kennedy was shot dead in Dallas, and in 1990 Margaret Thatcher resigned as prime minister. It was also the day on which Charles de Gaulle was born in 1890, and the day Angela Merkel became German Chancellor in 2005.
… and a sporting triumph
In sport, 22 November was a day of celebration when in 2003, England's rugby team won against Australia in Sydney, making England proud winners of the Rugby World Cup. For St Cecilia it was a busy time, inspiring the singing of rugby songs until late into the night. We wonder whether 22 November 2016 will bring any notable occurrences………