Amazing Paper Bridge is a Work of Art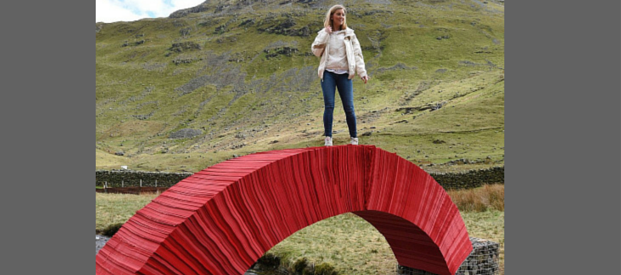 Being publishers and printers of promotional calendars, we love all things made of paper, so we thought we would share this amazing bridge with you. It is made entirely of paper – it has no glue, bolts or other fixings holding it together, and it is in fact a work of art, created as a temporary piece by the artist Steve Messam. Built on location at the top of the Grisedale Valley in the Lake District, the bridge is made of 22,000 sheets of paper, and spans five meters.
The piece was commissioned by Lakes Culture as part of its Lakes Ignite Programme, and took three years to develop and has become a local sensation, popular with walkers and cyclists eager to test if it will hold their weight.
The bridge sits neatly over a beck, near to Helvellyn in Cumbria, and the striking red colour of the paper makes a statement in the landscape of the Lake District in an area where dry-stone walls are a more familiar site. The remote location is popular with groups of walkers and can be accessed by two separate paths which involve a five mile round walk.
Environmental artist Steve Messam from Teesdate, spent three years developing the fully-functioning bridge, using 4.5 tonnes of specially formulated paper from James Cropper papermaker. This actually make the bridge twice as strong as oak with the construction being based on the principles of classic 'arch bridges', developed by the Romans. The artist says 'the intensity of colour contrasts with the landscape, making a bold statement of form and design, inviting you and drawing you to explore it and touch it or even walk over it.'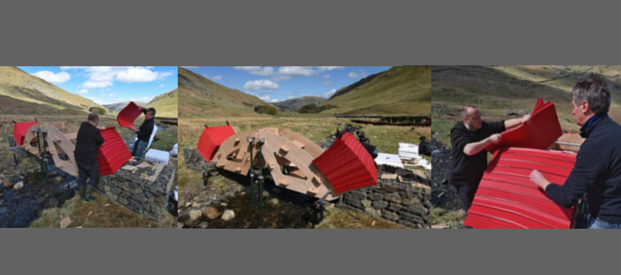 The red pigment is colourfast, so that if it rains, none will run into the watercourse, and once the bridge is dismantled at the end of the installation, the paper will be returned to James Cropper for pulping and recycling.
Mountaineer Alan Hinkes OBE, from North Yorkshire, was one of the first visitors to cross the newly-erected bridge said:
"I was slightly perturbed at crossing the bridge – after all it is made out of paper, and I ventured across the first time with slight trepidation."
"There was a bit of a wobble at the top and you are nearly 10ft off the rocky stream bed, so it is no place for vertigo sufferers."
"Even after heavy rain the bridge showed no signs of damage and looked and felt secure and robust."
He added: "At first glance the bridge looks dramatic as you approach it from Patterdale or Glenridding.
This unique artwork will be later taken apart, with the installation open until 18th May 2015.