Bindery Worker Joan Retires after 25 Years at Rose Calendars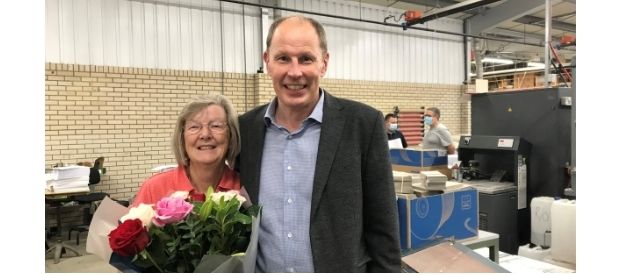 Here is lovely Joan as she said her farewells to Rose Calendars on Friday, having worked in the bindery for nearly 25 years.
Joan began work with the firm in 1997, just a year before the large extension was made to the current factory.
Rose Calendars are very family orientated, so we were delighted when Joan's daughter Michelle joined us for a number of years as the first female printer. Mother and daughter would dove tail the calendar manufacturing processes, with Michelle running presses to print the pages, whilst Joan's specialty has always been in her precision hand finishing. Working on Shipping Calendars to produce intricate four-date pad designs has been what Joan has done best, and Rose Calendars are known as one of the only UK based producers of these designs. Joan's skills and expertise in all aspects of finishing will be sadly missed but handed over to other colleagues as the Christmas production schedule to achieve customer deliveries sets a pace.
When not working on the labour intensive Shipping Calendars, Joan would turn her hand to all other finishing work, including binding, punching and cording, but also to meticulous checking to ensure the quality of finished calendars is to a very high standard.
Joan was presented with a gift voucher and a bouquet of roses (of course!) by Managing Director Michael Rose. He said "We will miss your friendship and loyalty Joan, and thank you enormously for all your years of hard work and commitment to the company. Enjoy your retirement!"
Joan's work colleagues presented her with a gift of gardening tools and she has plans to spend time in her garden and to decorate the house. We know for sure that she won't be idle and those hands will kept very busy into her retirement.