The Great Rose Bake Off in Aid of St Helena Hospice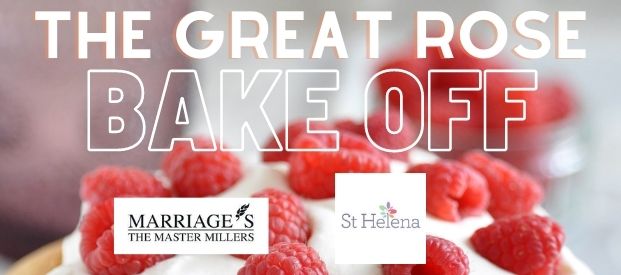 On Tuesday 9th November talented and keen bakers from Rose Calendars came together for the inaugural Great Rose Bake Off in aid of St Helena Hospice.
Marriages Flour kindly sponsored the event by donating their award winning flour, and for an entry fee, each baker was given a bag to make their signature bake. Competition was fierce, with staff from across the business taking part, from wiro-binding calendar finishers, to specialist hand workers, the whole of the sales team, and even a director, our bakers kept what they would be making a close secret right up until the big day.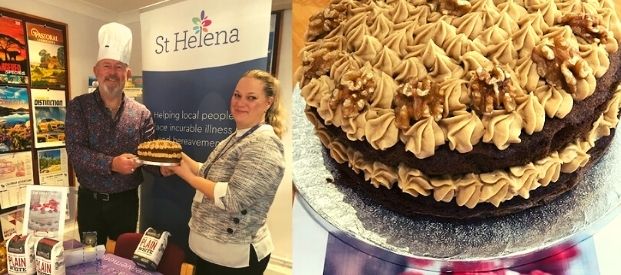 Joanne Clarke Supporter Engagement Fundraiser from St Helena was our 'Pru Leith' judge, and had the tough job of tasting all the anonymous entries before picking the star baker. Jo sampled Victoria sponges, coconut and raspberry cakes, lemon drizzle, fruit and cheese scones, chocolate brownies, cheese straws and fruit loaf, before selecting the winning bake on taste, appearance and creativity. The winning bake was a deliciously light and fluffy coffee and walnut cake with very carefully piped icing entered by Mick Horn. Second place was scooped by Spencer Barnett with a zingy clementine cake which caught Jo's attention as it was a vibrant colour as she cut into the cake and deliciously moist to taste. Both winning bakers are on the sales team, and were presented with St Helena T-shirts and a bag of Marriages flour, as well as a trophy for the star baker.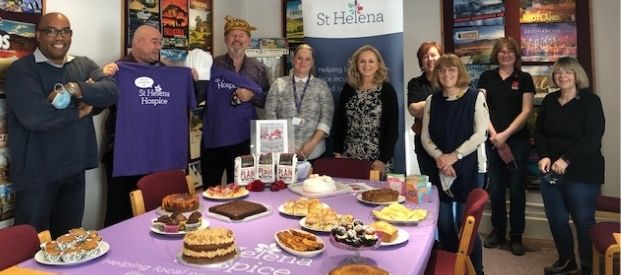 The idea for the Bake Off came from Marketing Manager Elizabeth Rose who said "as we've not had the chance to meet and eat cake for so long, we felt this would be a great way to bring our staff together and raise money for our nominated charity St Helena Hospice."
Once the judging was complete, the cakes were packaged up (to make them covid safe) and then sold to the staff. The Bake Off raised over £425 for the hospice and it is hoped this will become an annual event in the calendar.
We're hoping there will be many more such fun (and delicious) activities throughout the year which sees Rose Calendars as Corporate Sponsors for the hospice.