Colin Prior
About Colin Prior and his amazing photography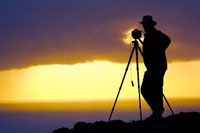 Rose Calendars hold the exclusive rights to publish corporate calendars using Colin Prior's stunning photographic material of the beautiful Scottish landscapes - his work has won many awards with his corporate wall calendar we produce being awarded 'Outstanding Business Calendar of the Year' at the National Calendar Awards, on more than one occasion.
We often get asked about Colin's background,which has caused us to publish a little bit more information about Colin Prior the artist.
Growing the passion
Born and bred in Scotland, Colin grew up near the Scottish Highlands, which shaped his love of wildlife and, in particular, the mountains from an early age. He soon fell in love with photography and, by all accounts, it fell in love with him, too.
Colin won several photography competitions and - a keen underwater photographer by this stage - started working for a diving company, which helped him gain a solid reputation both in the UK and abroad. His work further developed as he spent many years as a freelance photographer, being commissioned by large corporations. One of the largest being British Airways, a client Colin worked with for several years in the late 90's, shooting their corporate calendar, a project that gained him international acclaim.
Giving something back
Since then, Colin has continued to pursue his passion of photography, had his work published in magazines, books and calendars and, in 2006, he founded the popular Colin Prior Photography School, which offers valuable tuition to budding photographers, often given during inspiring trips within Scotland and further afield.
Although he enjoys travelling, Colin Prior has stayed true to his Scottish roots and now lives in Glasgow with his wife and children.
The Colin Prior corporate calendars
Both Colin Prior's 2024 wall calendar and desktop calendar are available for your company promotion now.