Colchester Rotary Club Musician of the Year 2016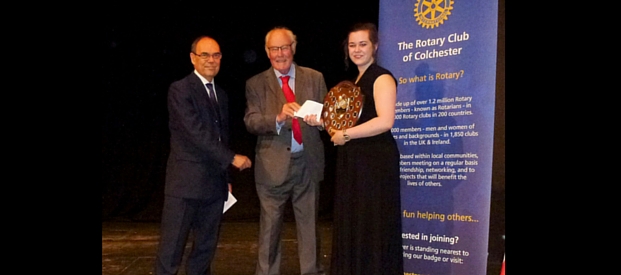 Rose Calendars are pleased to have once again supported the Rotary Club of Colchester in their Festival of Music and Dance which took place at the beginning of this month.
Supporting the festival by sponsoring the award for Colchester Rotary Musician of the Year Rose Calendars award the winner 'The Rose Calendars Shield' together with a generous cheque, at a Festival Finale concert where contestants and finalists must sing and play to a panel of judges and local guests including the Mayor of Colchester.
This year's event was a culmination of talent from woodwind and brass, to piano and voice, with high levels of ability apparent in every piece. Taking place at the Swinburne Hall, Colchester Institute, the concert entertained and amazed the gathered guests on 2nd July.
Presenting the award to the winner, Chris Rose, Chairman of Rose Calendars commented how pleased he was that Jessica Edom Carey won the award for the second year running after securing Singer of the Year. Musician of the Year is presented to the musician who the judges feel best deserves the win from all the categories entered into the finale.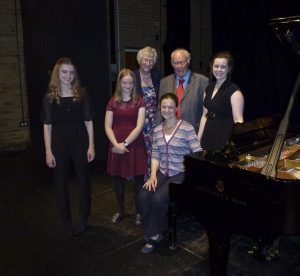 Pictured above, left to right are Music Festival finalists, Jane Bellingham (piano), Katie Tomlin (strings),Judith Rose, Mary Armitage ( Woodwind and Runner up for Musician of the Year), Chris Rose, Chairman of Rose Calendars and Jessica Edom Carey ( Rotary Singer of the Year and Musician of the Year).
In the main picture at the top of the page are Jessica Edom Carey – Rotary Musician of the Year with Chris Rose (R) and Andrew Allen (L) who chaired the judging panel.