Florence Rose Runs Half Marathon in Memory of Grandpa, Chris Rose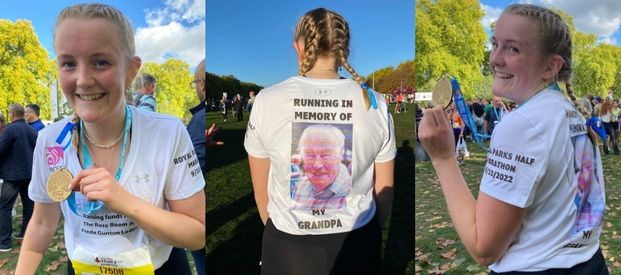 Fifth generation family member Florence Rose has just completed one of the most beautiful half marathons in the world in memory of her Grandpa Chris Rose. Florence, who took part in her third half marathon on Sunday 9th October, decided to raise funds for Freda Gunton Lodge care home, part of the not-for-profit Balkerne Gardens Trust (BGT), where Chris spent his final months.
Working at the home as a kitchen assistant during her holidays, Florence is well placed to understand the requirements of residents and their families, and chose to raise money to refurbish a room where meetings and consultations can take place, as well as activities and private dining. After discussion with BGT Director Amanda Westbrook, who knew Chris well, Florence and her family offered to contribute to the refurbishment of the garden room which will be renamed 'The Rose Room' in his memory.
In its fifteenth year, The Royal Parks Half Marathon appealed to Florence who is a final year student at The University of Exeter, with the sustainability aspects of this race catching her attention. Taking in some of London's world famous landmarks, the route passes through four of London's eight Royal Parks, beginning in Hyde Park, Green Park, St James's Park and Kensington Gardens on roads closed for the event. The organisers are committed to sustainability pledging a ban on all plastic bottles on course and within the festival site to drastically reduce waste wherever possible with a plant based village focus for participants and supporters alike.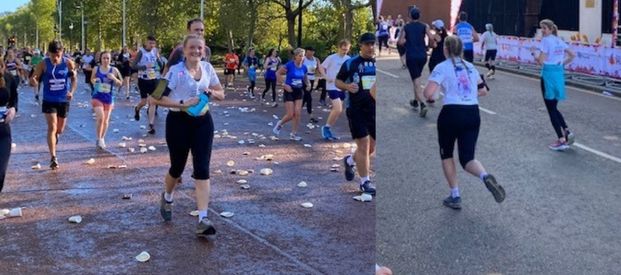 Ahead of the race on Sunday, Florence had raised £927 from generous supporters and sponsors, which Rose Calendars are delighted to have brought up to nearly £2000. This will offer Freda Gunton Lodge a great opportunity to create a lovely new environment for residents and families to enjoy in Chris's memory.
Speaking of her experience of this year's race Florence said:
"I was honoured to be running this year's Royal Parks Half Marathon in memory of my Grandpa. I had a t-shirt printed with his smiling face on the back, so I felt like he was with me the whole way round. I had to dig deep at times, but with the support of my parents and friends I paced the streets of London and managed to shave 6 minutes off last year's time, which I was delighted by! On the way home we stopped to put flowers on Grandpa's grave. I am truly thankful to have been able to run this race and to raise funds in his memory."
Florence's Just Giving link can be found here for any kind donations:
https://www.justgiving.com/crowdfunding/in-memory-of-chris-rose?utm_medium=email&utm_source=ExactTarget&utm_campaign=20221007_