William Morris & Rose Calendars – A Surprising Connection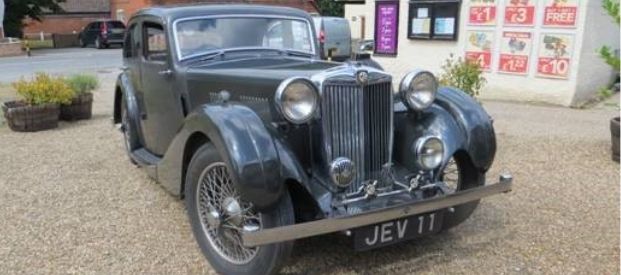 At Rose Calendars, we often find historic reference to events from the past in the locality, whether it's to do with the old factory premises, or details from a customer who has bought calendars for a good number of years. So it was such a pleasure to hear of this piece of history which dates back over one hundred years, to the time when founder George Rose was with a customer in Oxford.
We received a letter from Colchester Probus member, Grahame Page, enclosing an article about a conversation between Grahame's father, Percy Page and George Rose. The conversation took place in 1912 and concerned an impressive young customer of Rose Calendars, the owner of a garage in Oxford.
To set the scene: in 1912, George Rose was in his mid-fifties and was working hard to develop the business he had set up four years earlier – Rose Calendars. He had recently moved the business to larger premises in Kendall Road, Colchester where the calendars were printed in the basement, composed and collated on the ground floor, and bound and despatched from the first floor. George divided his time between overseeing work at the factory and travelling around the country getting orders for the firm.
At the same time, Percy Page had just started his garage business in Military Road, Colchester and it was here that George told Percy about the young man with a car repair business in Oxford who was a loyal buyer of Rose Calendars. George said 'in Oxford there is a wonderful young lad who, when I call on him, just tells me to go to the second drawer of his desk and get out the Order Book, make it out and he would sign it. His hands are always covered in oil. That young man I am sure will go a long way, for he never stops working.'
That young man was William Morris and in 1912, he designed his first car, the bull nosed Morris. One year later he introduced the Morris Oxford and soon became known as 'The English Henry Ford'. Not only did he run a successful business but he became a great philanthropist, supporting many important causes. Morris was awarded a peerage and took the name Lord Nuffield after the village where he lived.
George Rose had been quite right to be impressed by that young man!
In 1923, Percy Page's garage became the Main Agent for Morris cars for north-east Essex – perhaps Percy's decision was influenced by George's predictions about William Morris.
In the article written in 2019, Percy's son Grahame suggested that 'Mr Rose's predictions about William Morris could also apply to Mr Rose himself as his family business is still operating in Colchester, producing calendars.' We've been in touch with Grahame, who is now aged in his late 90's and we hope it brings some fond memories back to him and other members of the Colchester Vintage Motor Club (CVMC).
Pictured is Grahame Page's MG VA which was acquired new in 1939 at his father's garage in Colchester. The car is now usually driven by John Green with Grahame as passenger.
The picture was taken in 2015 at a CVMC lunch at The Dog, Grundisburgh, prior to Classics on the Green at Friston.