Double Award-winning 360interactive Calendar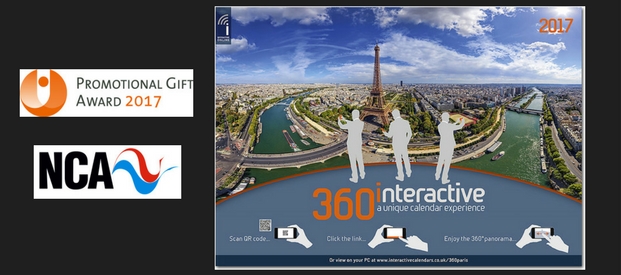 The beginning of 2017 has brought a double win for Rose Calendars innovative and engaging new title, '360interactive'.
Not only has the calendar scooped an award for innovation at the National Calendar Awards (NCA) in London, but the design impressed the panel of judges at the International Promotional Gift Awards and was awarded a trophy in the 'Communicative Products' section of the competition held in Bonn, Germany.
The international awards have been running since 2003, with the judging panel being made up of industry specialists, attracting 242 entries from 192 companies who submitted innovations and developments from advertising and promotional sectors around the world. Whilst distinguishing the Rose Calendars entry, the judges commented that they were unanimous in their decision to award the 360interactive Wall Calendar a Promotional Gift Award.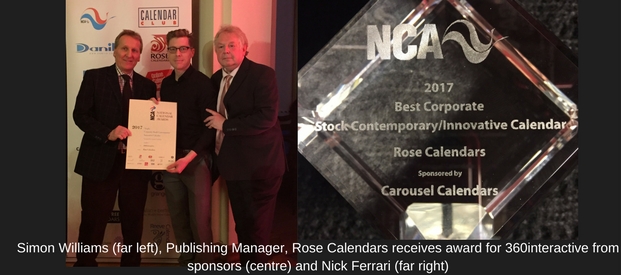 At the annual prestigious National Calendar Awards ceremony held in London at the end of January, Rose Calendars entered a number of their most popular titles, with 360interactive taking the award for most innovative stock product. Held at the Stationers' Hall in the city of London, the event marks a prestigious industry occasion where promotional calendars for business rub shoulders with retail, charity and student entries. The speaker for the evening was Nick Ferrari – LBC Radio breakfast show host, who entertained the audience with stories of Nigel Farage, Boris Johnson and David Cameron and the banter certainly kept a fast pace, not unlike the guest's radio show.

In addition to the win for 360interactive, Rose Calendars also won the coveted 'Fred Kendrick Award' for their title 'Countryside Walks'. Awarded to the best overall business calendar in all categories, this trophy was won by the Pirelli Calendar last year. Countryside Walks first collected an award for 'special interest', going on to scoop the best in show. This calendar has won awards for four consecutive years at the NCA and continues to be admired by customers and judges alike. With downloadable OS maps, walking routes are available to enjoy straight from the calendar.
As well as winning prizes, these innovative, engaging and interactive calendars are certainly attracting attention in the market place, and with industry professionals offering something completely different to promote a company's brand.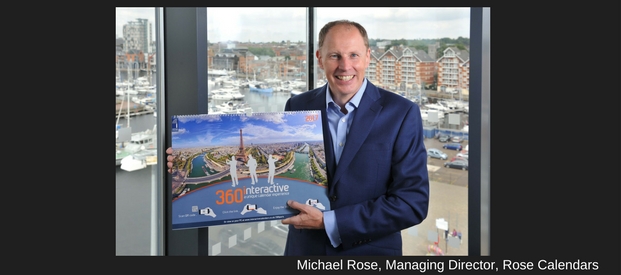 For more information on interactive calendars https://www.rosecalendars.co.uk/interactive-calendars
https://www.rosecalendars.co.uk/interactive-calendars