Sustainable Calendars win Prestigious Innovation Award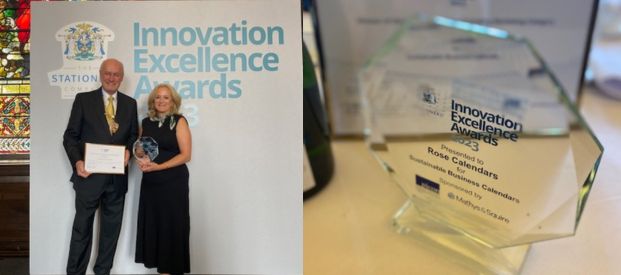 Eco-friendly marketing has well and truly been demonstrated with an award win for our sustainable business calendars this week at the Stationers' Company in London.
The award, in the 'Communications including Marketing' category comes at a crucial time for our business as we enter the most prolific time of year for calendars, with many customers keen to secure their orders for 2024 titles in time for Christmas.
The awards were presented at a high profile event at the historic Stationers' Hall right in the heart of the city, amidst stiff competition from other marketing initiatives. Having been shortlisted for the award, Rose Calendars were invited to attend an exhibition showcasing sustainable calendars, proving how the vibrant images are central to the promotion of customer brands and explain the different styles and designs available to customers. Interactive features proved popular too, as these were demonstrated to visitors viewing the designs, including 'Countryside Walks' with downloadable routes combined with images and maps on the printed calendars. 'Discover Britain' and 'Destinations 360 interactive' were also of interest, with their discoverable scenes from around Britain and across the globe.
The panel of judges were very impressed with our sustainability credentials which run throughout the business, and can be passed on to customers and calendar recipients alike. Printed on Carbon Captured paper (in association with the Woodland Trust), using vegetable based inks and solar energy, the sustainability message is key.
Other categories within the awards included Product Design, Customer Experience, Business Process and Service Development, however the marketing category proved to be a popular and endearing sector, especially given that calendars are fully recyclable.
Marketing Manager Elizabeth Rose attended the exhibition and event on behalf of the company and commented "this award represents an important area not only in our company, but in every business as it's crucial we all consider sustainability in everything we do. We are proud of our green initiatives and that we can pass the benefits we derive from having this sustainable approach on to our customers too."
With instructions on how to recycle every calendar on the reverse, carbon neutral deliveries, zero waste to landfill from our factory and other recycling and community initiatives, calendars really do demonstrate sustainable marketing.