5th Generation Rose Family Work Experience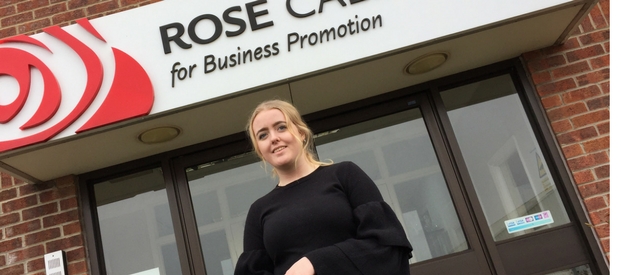 We recently welcomed a young lady called Sarah Whittaker at Rose Calendars to experience work here for a week. Sarah is a member of the 5th Generation of the Rose family which has been established in business since the company was founded in Colchester in 1908. As the granddaughter of Dick Rose, she grew up with the familiarity of calendars in her life and holds fond memories of her grandfather's involvement within the business while spending most of her childhood in Colchester. Dick was a large influence in her life, and she proudly referenced the article on him https://www.rosecalendars.co.uk/news/?s=Dick+Rose&x=0&y=0 to remember the significant role he played in the company and find out a little about where she and her generation sit in relation to the business now.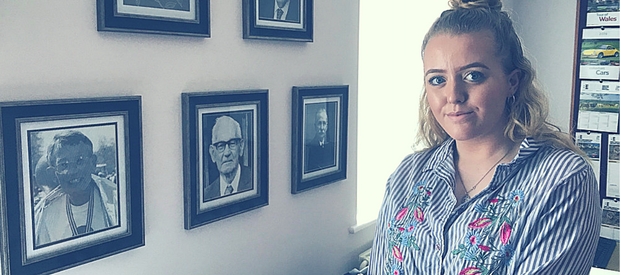 Sarah pictured with her forefathers, from left to right, Dick Rose (her grandfather), Ivor Rose (centre) and George Rose, founder from 1908
Sarah currently studies Marketing at the University of Southampton and spent a week experiencing work within the Marketing Department and understanding the unique environment at Rose Calendars. Her week also included spending time in each department -following the journey of production in the manufacture of our promotional business calendars from initial design conception, through creation of customers' advertisements. The week then progressed to incorporate an understanding of the routes to market and the promotion necessary in order to maximize potential sales through marketing strategy and the elements which make Rose Calendars a market leader in advertising calendars. Sarah hopes to use the skills she has gained learning within her degree to further her own career.
It is fascinating to consider the differing attitudes through the generations and how they influence today's market. Sarah is an individual who has grown up with social media, and is very familiar with the digital era we now find ourselves in, unlike the traditionalist generation of her forefathers. Rose Calendars founder George Rose, alongside his salesman nephew Ivor Rose and financial administrator great nephew Dick Rose, were all classed as the 'Traditionalists Generation'. These highly skilled individuals were experienced with focusing on organisational hierarchy improving their ability to understand complex structures and objectives by uniting ideas.
Dick's daughter Alison (Sarah's mother) also works for Rose Calendars doing research and copywriting for the wide variety of calendar titles offered, where images are changed completely afresh every year, necessitating new copy and information for each calendar. Alison was born in the era of the 'Baby Boomers' – these individuals grew up challenging authority because they feel the promise, excitement and power of participation and transformation on a very personal level. They have respect for sustained effort and the rebelliousness to know when and how to change strategy to convince, engage and innovate. Finally, Alison's daughter Sarah is entering the marketing sector which has become highly influential amongst her 'Generation Z'. Now starting out in her career like her grandparents, they have come of age in a time of war as the norm and a sluggish rebound from a financial crisis. They see digital as a tool (professional and social) to facilitate connection, often more in the real world than on social media representing some of the best of each previous generation, yet using the guidance and insights that previous generations offer.
In today's society, large multi-national companies are becoming increasingly more dominant within all sectors of the marketplace and are able to manipulate quality in order to drive down prices and poach customers from independent sources. Family business' like Rose Calendars struggle to remain strong competitors due to the UK's economic environment which has changed the spending habits of this generation of customers alongside the recruitment prospects for those younger family members with potential to work for the business. This puts great strain on the infrastructure of UK family businesses, which is why Rose Calendars has invested time and resources into the company so that it can adapt for the future. Rose Calendars provides an advertising medium that allows small companies to thrive by effectively setting their business apart from others and promote their brands 365 days a year.
Managing Director Michael Rose said "It was great to welcome Sarah to Rose Calendars for the week. I think she certainly learnt a lot about our family business and the values we hold true and I hope it is useful for her in progressing her interest in marketing."
Sarah certainly found her week at Rose Calendars insightful and valuable.
Michael Rose, Managing Director (left) and Sarah Whittaker