Trophies for Rose at National Calendar Awards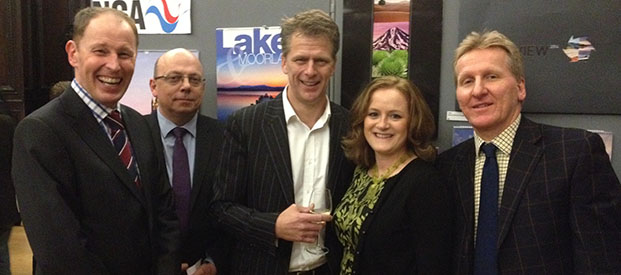 Rose Calendars are no strangers to winning awards for our calendar designs and production quality, and this year's National Calendar Awards proved another successful event with Rose winning two awards in the corporate stock calendars category.
The 2014 awards ceremony took place on the evening of 22nd January at the Stationers Hall in London, a prestigious and fitting venue for what is now considered to be The Oscars of the calendar industry and very appropriate for the occasion given its long history of publishing and printing dating back to the 15th century.
The event brings together industry professionals in an annual event where publishers, designers, photographers, artists and students mingle with printers, sponsors and industry experts to celebrate winning calendar design.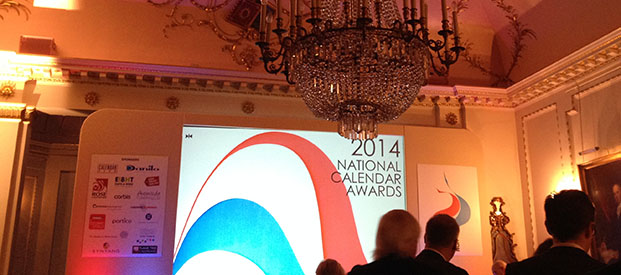 Calendar nominations are hung and viewed in a variety of categories, ranging from Best New Title, Best Corporate Stock Calendar, Best Retail Celebrity Calendar Award, Best Retail Calendar Award, to awards for long service to the industry, student awards and a surprise Life time Achievement Award to Co-founder of Calendar Club Gary Beck.
The judging panel of experts had plenty of entries to consider with entries from across the industry including publishers, manufacturers, students, charities and the famous 'Pirelli' calendar.
Rose Calendars were pleased to win awards in the following categories:
Corporate Stock Calendars, Special Interest, which we won for our title 'Obsession'.
Corporate Stock Calendars, Scenic/Landscape, which we won for our title 'Great Journeys'.
The competition was stiff, with entries and nominations in more than 5 other categories. The award we were not surprised we didn't win in the category of 'Cause Related Calendar' (we submitted a calendar we produced for Woodbridge in Bloom, so not really a fair contest!), was awarded to the 'Warwick Rowers' for their charity naked calendar, now in its 5th year. Some of the team were at the awards ceremony, and pleased mainly female guests with their presence, posing for photographs alongside their calendar. They even scooped the 'People's Vote', being chosen as the favourite all-round calendar from the evening ceremony.
Great entertainment was provided as each category was announced, with variety coming from well-known nominations such as Cheryl Cole (Best Retail Celebrity Calendar award), Doctor Who 50th Anniversary (Best Retail Character Calendar) and the Pirelli Calendar.
Congratulations to the other winners including Danillo, Carousel Calendars, Allan & Bertram, Avonside, Pyramid, and Flametree Publishing.
Following the presentation of the awards, the evening's guest speaker took to the stage. Andrew Castle tennis player, Broadcaster and GMTV Presenter recounted stories of playing tennis in a night match with Fred Perry, where he taught his idol a great top-spin backhand. Having grown up in Taunton, Andrew told the audience how he was lucky enough to have had the opportunity of great coaching and training in the US, where in his words he "became a good player". On returning to the UK he was invited to play at a garden party at Hurlingham against a little known player by the name of Sampras, who at the time proved to be good competition. Later in a match against Goran Ivanisevic he was to realise that perhaps it was time to find an alternative career. Aged 28 he took the decision to retire and moved into broadcasting, beginning a job with Sky.
Andrew has worked for GMTV for 10 years now, and has interviewed everyone from Tony Blair to Miss Piggy. He's been sung to by Alicia Keys and was on the commentary team during the infamous Wimbledon win by Andy Murray last summer, which he found profoundly moving.
In 2008 he agreed to a proposition to 'raise his profile' when his agent suggested he guest star as a dancer on Strictly Come Dancing. He was partnered with the gorgeous Olla Jordan, and according to Andrew, it was only the outfits which Olla was (or perhaps more to the point wasn't) wearing, which saw him through past the second week!
Andrew's talk was entertaining and witty, and he enjoyed his insight into the little known world of calendars, saying he hadn't realised there were so many calendars and their outstanding qualities.