Staff with 187 Years' Service Accept Corporate Sponsor Certificate for St Helena Hospice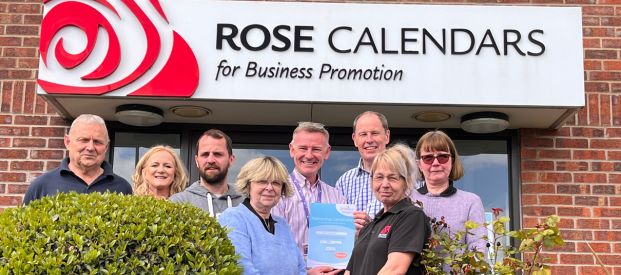 Long-serving staff at Rose Calendars gathered today to accept the annual certificate from St Helena Hospice, marking another year in our proud association with the charity.
Corporate Fundraiser James Martin-Whymark presented the partnership certificate for the Corporate Membership Scheme to a group of staff who between them have served a combined total of over 187 years!
Each sponsoring company makes an annual donation of £1000 which is used to aid the running of the hospice, help to pay for vital equipment and key clinical and domestic staff, including nurses and doctors so they can continue to provide excellent and specialised care to hundreds of patients and families.
The cause is close to the hearts of Rose Calendars and our staff, with many pictured here having benefitted from care by St Helena for family members. We continue to choose the Hospice as our nominated charity, with fund raising efforts going towards raising money for their invaluable work and care. Often matching funding for events arranged in house, in addition to the annual partnership, Rose Calendars is proud to be able to support the charity through sponsorship and fundraising.
As a family business, we value our long-serving staff, who are part of the larger family of the firm, and continue to work to produce our range of high quality promotional calendars. Imagine how many calendars have been through the hands of these valued employees over the years………….!
Pictured left to right with their respective years of service are:
Steve James (20), Elizabeth Rose (20), Mike Irving (18), Julie May (42), James Martin-Whymark, St Helena, Michael Rose (30), Paula Law (25), Sarah Lane (32)