How Can Calendars Aid Brand Advertising?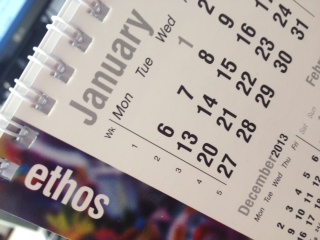 As anybody with even a basic knowledge of advertising will know, there are simply thousands of different ways in which a product, brand or service can be successfully promoted. There is an almost endless number of ways in which a business can both strengthen and enrich its corporate character. There are specially designed business cards and flyers, direct mail campaigns and limited edition deals and offers. You can even hand out T-shirts or give away free samples on the high street. Yet, there are very few marketing techniques quite as effective as the branded business calendar. In fact, branded calendars are an ideal marketing tool for small to medium enterprises with a limited promotional budget. They're versatile, attractive and inexpensive – especially in comparison with other available marketing techniques.
You only have to look at the natural longevity of this kind of product to understand how useful it can be to a business. A well designed and well considered branded calendar is almost certain to be utilised and interacted with for ten to twelve months. There are very few, ultimately disposable, products that come hand in hand with this kind of opportunity. The branded business calendar is a great way to increase your brand awareness, because it's the kind of promotional technique that is often referred to as a quiet marketing method. Despite the fact that it's interacted with on a daily basis and it provides almost constant exposure to a brand, a promotional calendar manages to do this in a very organic manner. Here are just a few of the reasons why you should invest in brand advertising via promotional business calendars this year.
A Useful Tool – one of the main differences between a branded calendar and most other marketing techniques is the fact that a calendar is a practical product. It doesn't matter whether or not it's branded, either way it is an item that can be actively used on a daily basis. Whilst surveys have shown that some people tend to shy away from explicit marketing ploys, because they don't offer a solution to a real task or problem – the same cannot be said for branded calendars. They are fulfilling a need for the brand in question, so a consumer values the source and repeatedly exposed to the advertising message. In this digital age of computer datebooks and virtual diaries, almost every single British business still uses paper calendars. It's clear to see that there's something essential about this product.
Flexible And Diverse – we've established that branded calendars are a constant and essential part of the contemporary British workplace. The question is – how can your business take full advantage of this perpetual marketing opportunity? It isn't enough to simply produce a calendar, stick your company logo on the front and hand it out for free to your clients. If your calendar is to be used all year round, it needs to be attractive enough to look at all year round. This is where the design experts at Rose Calendars come in – they're responsible for a wide range of different visual styles, all of which can be found within our online marketplace. We design and create calendars that celebrate everything from travel to animals, humour, sports, wildlife, art and national heritage.
The Wow Factor – the key to understanding the marketing potential of corporate calendars is to first get to grips with the nature of the product. As we've already discussed, a calendar is an item that offers various practical opportunities to a user. This means that its overall look and design, though still very important, also benefits from a certain degree of creative freedom. You can get away with the design of a quirky or very artistic calendar, for example, because it's not just a promotional item. It's a visual product, so a certain degree of experimentation is warranted – perhaps even expected. It certainly doesn't mean that you have to opt for super quirky designs, it just means that you have the freedom to offer precisely the kind of marketing opportunity that is best for your business.
Making It Count – the best thing about working with a company like Rose Calendars is the fact that we know just how to find the right balance between promotion and visual appeal. It isn't all that useful to create a branded business calendar that's only full of explicitly promotional images. You've got to remember that most consumers don't like being aggressively advertised to, which is why calendars are such an effective marketing tool in the first place. In order to make the most of this quiet promotional opportunity, you've got to find that balance between visual appeal and visual marketing. With the right design, you can make sure that users are almost constantly exposed to your brand without them even having to acknowledge that this is the case.
Here are some tips and tricks for a successful advertisement from our expert designers:-
– Choose a simple and uncluttered layout – don't forget that less is always more
– Use bold colours for visual impact and brand recognition
– Be careful not to overuse bright colour – once again, less is always more
– Use an advertisement that matches your calendar design
– Provide evidence of your services and products
– Promote your unique selling points as much as possible
– Include direct contact details and website information
– Add trade association membership/certification logos/ accreditations if relevant
You can pick up our branded business calendars in a variety of different sizes too. There are compact calendars for desks and office walls with a limited space. The regular full sized products are always on offer, but we also have slim-line calendars that are perfect for hanging on the walls where space is at a premium. Our team of experienced designers can help you with the creation of your personal advertisement, if necessary – or you can supply your own print ready artwork. If you would prefer to do this, please check out our page on How to Supply Digital Artwork. If you would like a quote for your 2015 business calendars, please Contact Us at Rose Calendars.