Discovering Interactive Calendars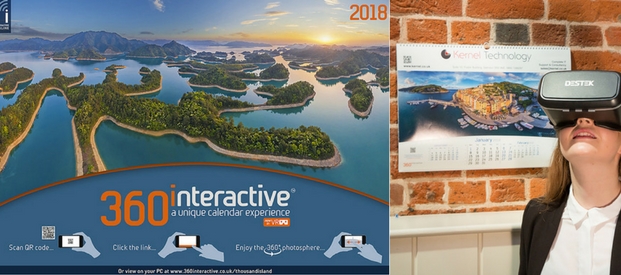 Rose Calendars have recently launched a promotional video to showcase the award-winning advertising calendar '360interactive'. This short and engaging film takes you into the world of interactive calendars, demonstrating how they can be used in a business environment to promote customers' brands to maximise the exposure a company can have all year.
The stunning images have on-line links to a unique set of photospheres of some of the world's most fascinating locations. Once you have scanned the on-page QR code, you are transported each month to a different location, from the Taj Mahal in Agra; the banks of the Vltava river running through Prague in the Czech Republic or Easter Island in Chile to discover monuments, landscape and scenery which will take your breath away.
Discover 360interactive calendars through this short video:
Produced and directed by local company Aura Films, the videos were filmed on location in Colchester. Steve from Aura worked closely with Rose Calendars to ensure this brand new concept for business calendars was clearly explained and communicated effectively.
Our 'How to' video demonstrates how easy it is to simply scan the QR code with a smartphone or tablet to transport the user to the scene. For 2018, it's even possible to travel around the destinations in virtual reality with a VR headset. The experience becomes more immersive, and the printed calendar on your wall becomes the gateway to a breath-taking aerial view of the location to explore.
Watch our 'How to Use' Video here:
360interactive has won three awards already this year, and continues to attract attention due to the innovative and ground-breaking technology used for the first time in a promotional calendar. Interactive calendars provide an innovative and engaging corporate gift which lasts an entire year.
The 360interactive calendar is available in four different formats: a large format wall calendar featuring ultra-high definition super-wide angle images; a more compact wall edition with a write-on area for appointments and events; a desk calendar version with two different sides to display and a mini desk calendar, all featuring the interactive options.