Christine Welcomes New Grandchild on the Day she Retires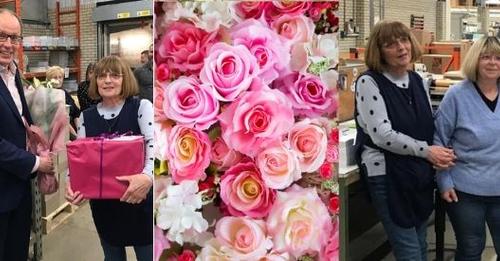 Staff member Christine recently had double cause for celebration, as she welcomed a new grandchild on the same day she retired from Rose Calendars.
Bindery worker Christine, has been employed with the firm for over 40 years, having worked for 3 generations of the Rose family during this time. She remembers working for Ivor Rose, who first employed her in 1974, working for the business for six and a half years before leaving to have her family, then returning in 1988 to work for our past Chairman Chris Rose. More recently she has worked for Michael Rose, current Managing Director.
And keeping it a real family affair, Christine has worked with her sister Julie since she returned to us in 1988. Julie actually came to cover Christine's maternity leave and has remained in the business ever since! The sisters have worked tirelessly together during this time and are very close.
Christine was presented with a bouquet of flowers and a Royal Doulton figurine, (which she collects) by Michael Rose, with the promise that she would keep in touch and come back to visit, (just as soon as she has met her new grandchild!).
We wish Christine every happiness in her retirement and thank her for all her loyal years of service.