Celebrating Quintuple Win at World Calendar Awards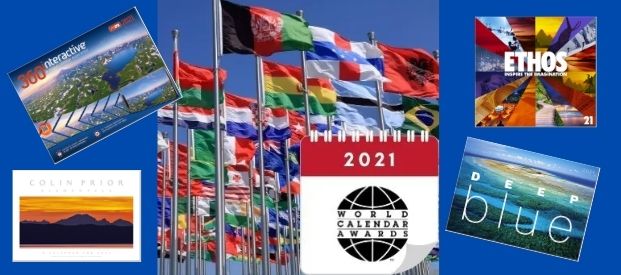 Rose Calendars has continued with a winning streak, despite the pandemic, scooping an amazing five awards in the World Calendar Awards announced last month.
We took the decision last year to enter a selection of calendars into the international competition, not knowing whether 2021 would see any wins amidst lockdowns and furlough schemes. There were no national awards such as The Calies last year due to Coronavirus, so the marketing team were understandably cautious about entering the World Awards. Despite our reservations, Rose Calendars won an impressive five accolades, across diverse themes, with two gold awards, two silver awards and one bronze.
What we consider to be our 'flagship' calendar 'Ethos – Inspirational Images, Aspirational Thoughts for 2021' won Gold in the Best Scenic category with its images and quotes to inspire businesses.
'Deep Blue' was awarded both silver and gold awards for 'Best Scenic' and 'Best Animal/Wildlife' Photography.
Colin Prior Elementals won a bronze award in Best Scenic for the dramatic images found in this calendar and last but not least, 360interactive won a silver award for 'Most Original', bringing the number of awards for this title to an impressive eight awards in total.
The awards organised by The Calendar Marketing Association span the globe with producers from around the world entering amidst stiff competition. They showcase some of the best corporate calendars from various manufacturers, and bring a quality mark to these titles, meaning our customers benefit from award winning calendars to promote their brand. It's great to encourage us all to look forward to 2022.