Rose Pre-Press Manager Scoops Industry Award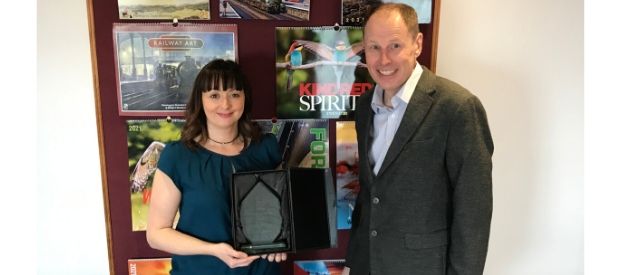 We are delighted to announce that our Pre-Press Manager, Nicola Stephens, has scooped the INCA award for Employee of the Year.
The award which recognises an individual in the calendar industry who has gone the extra mile to deliver outstanding performance and customer service is voted for by the members of INCA, many of whom deal with Nicola on a daily basis through their roles as sales agents for Rose Calendars.
Nicola joined the company in September 1999 and is thrilled that her efforts have been formally recognised:
"I feel honoured to have my work appreciated in this way. I started at Rose straight after college as a Trainee in the Pre-Press Department, and 20 years later, now manage the department myself."
Managing Director of Rose Calendars, Michael Rose, was also delighted with the award:
"Nicola's hard work and dedication has clearly paid off. She is a valued member of the Management Team and has improved the level of service given to our customers."
Over the years of working at Rose Calendars, Nicola has seen many changes in the Pre-Press Department, and helped hundreds of customers with their artwork and adverts, creating the perfect solution to promote their businesses. Often going beyond her role, it is clear to us why she has been awarded this presigious accolade – congratulations Nicola and keep up the good work!