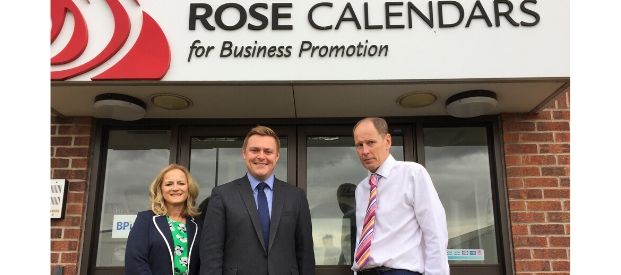 Today we welcomed MP Will Quince to our Colchester factory for a tour and chat. Parliamentary Under-Secretary (Department for Work and Pensions), Will took the opportunity to visit following the Government's announcement about a change to the early Bank Holiday in May 2020, after we contacted him to advise him of the concern it has given the calendar industry.
Having written to the Secretary of State for Business, Energy & Industrial Strategy, Mr Quince was keen to see how the decision had affected our business, but also take the opportunity to visit a local calendar printer to see how Rose Calendars have been producing calendars since 1908.
Beginning in our Pre-Press department, Will saw how artwork is originated and customers' adverts are created. He then moved on through the factory, taking time to talk to staff and see how the calendars are printed, bound and finished, before being sent out to customers. A demonstration of the collator machine used to compile the 12 (or 13 including the cover) sheets showed how we put the calendars together. In the bindery some hand finishing work was also seen, where highly skilled staff finish calendar date pads, adding special touches to complete commercial and shipping calendars.
The letter press machine was also demonstrated, with Will taking time to talk to operator Tim just a few weeks ahead of his retirement from the company. This vintage piece of kit is still used to print many of our desk calendar boards, or header board calendars. Will enjoyed talking to Tim and Managing Director Michael about the different printing methods used at Rose Calendars, saying "I am amazed to see how a whole factory is dedicated to manufacturing calendars! To have had this facility based in Colchester since 1908 is a tribute to the hard work and dedication of the rose staff."
Will finished by talking to Print Manager Dan Clark, who explained the role of and versatility of digital print within the firm and how this is combined with litho printing to offer the best solution for customers' calendars. Looking at the Kodak NexPress, Will was interested to see the speed and flexibility offered, asking about personalised colours and special coatings which can be easily handled by this machine.
Great relations continue between Will's office and Rose Calendars, especially in light of the change to the May Day Bank Holiday. Leading the way in publishing dates, as far ahead as two years in advance is usual business for Rose Calendars, so it's good to have the support of our local MP.