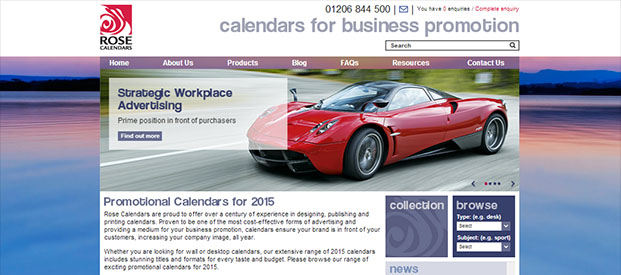 Rose Calendars are pleased to be leading the way in their digital presence, with the launch of a brand new website.
Having listened to customers and gained industry feedback, this new site is fully optimised to improve the experience to users and offer additional functionality which was not offered on the original site.
With larger images, which can be zoomed in to see detail on the many stunning images featured in the range, the possibility to read captions or see important details on each calendar sheet, the colourful yet contemporary site has been built by digital agency WDL to appeal to users and showcase the pictures from the calendar range.
Popular calendars also feature on the home page, with thumbnail images to help web visitors to make a choice from the wide range of Rose Calendar titles. Associated titles are also displayed alongside each calendar on the product pages – which is a first for Rose Calendars.
A fully compatible mobile version is launched at the same time, which will cater for the increase in mobile and tablet website browsing. Interestingly this has become very important when considering how customers view websites and crucial to Rose Calendars as we move our marketing communications into the future.
A brand new WordPress blog is also a first for Rose, with the ability for its content to be shared on various social media platforms, which are an increasingly vital part of any company's website marketing. We are looking forward to developing this side of things and communicating more with customers.
An affiliate site for Rose sales agents will follow shortly after the main site is launched and will be a fantastic new resource to help customers further.